For an appointment with Stefanie from Hypnosis Auckland please email hypnosisauckland@gmail.com
or call 021 022 45727
Stefanie has a clinic room at My Remedy Clinic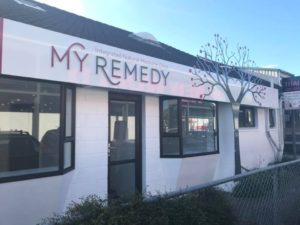 in Browns Bay/ opposite NW doors
7/8 Inverness Road
0630 Browns Bay/Auckland
Mondays, Wednesdays and Fridays between 9 am and 7 pm
Fees
Adults $150 per initial Hypnotherapy session (75 min.) including support recording.
Children (6+)  and Gold card holders $120.
Follow up Hypnotherapy session are 45 minutes long
fee for adults $120 and children and Gold card holders $ 90
Virtual gastric band/sleeve weight loss program (Sheila Granger certified) including 4 weekly Hypnosis sessions and two recordings .Fee $499 (payable at 1st session)
Brain Training Program  (Sheila Granger certified) to assist with Depression & Anxiety consists of 3 weekly hypnotherapy sessions and 1 support home recording
fee $349 (payable at initial session)
Reduce drinking program (Sheila Granger certified)
This hypnotherapy program includes 3 weekly, personal sessions (each approx.1 hour) and a daily support recording (15 min.) .Fee $349 in total (payable at first session).
Therapy Disclaimer – While hypnosis has many beneficial effects, hypnosis is not a substitute for appropriate medical attention

The content of this site is not to diagnose, treat, cure or prevent any illness or condition. If you have or suspect that you have a medical problem, contact your doctor or health care provider promptly. 

Actual results may vary from person to person and Stefanie does not make any guarantees that you will get the same results as the clients who have voluntarily provided reviews/testimonials

Never listen to hypnosis while driving any machinery.